We support your career development through refined educational and training sessions that cover from creating customer traffic, customer consultation to technical skills.
EBTA which ties-in with Makeup Artist Institute that prides in 40 years of credibility and history, offers collaboration of educational methods, EBTA's distinctive techniques and designs. Our extensive curriculum ranges in programs to understand ear acupuncture point locations and lifting mechanism, ear acupuncture therapy roll playing sessions, salon work trials and certification exams.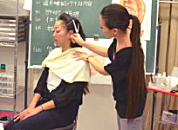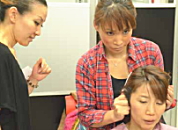 Guidelines on Association, face lifting mechanism, roll playing trials of ear acupuncture therapy
Ear acupuncture search unit usage manual and therapy precautions, Reflexogy and ear assessment overviews, acquisition of the standard therapy menu skills through roll playing trainings
Effective massage techniques, therapy procedures up to finishing and time allocation
Salon work training (additional menu offers and decoration methods)
Review of areas of improvement
Certification exam (to take place on the date determined by the Association)
Extensive follow-ups are provided to become an active therapist!
Our training allows you to offer ear acupuncture therapy as a service to your customers. In addition to the overall training from preparation, treatment and follow up care, we conduct demonstration exams in certification course and a certification will be issued to a qualified candidate as a certified professional therapist who can then offer ear acupuncture therapy to their customers.
We have 5 different courses that can be used in your day to day works.
Ear Beauty Therapists Certification Course (15 hours) Fees: 115,500 yen

We offer training to become a therapist. We instruct the ear acupuncture detailed knowledge, manners and therapies, follow-up care and overall practices necessary to offer ear acupuncture jewelry treatment for your customers on site. After finishing the course, demonstration test for certification course will be conducted, and for those qualified, the association certificate will be issued as a EBTA certified therapist to conduct ear acupuncture therapy to the customers.
---
Specialist Course (Internship system) No fees

You can be qualified as a certified trainer attending to the Association's activities along with master therapists and certified therapists. Assisting the training and certification courses through demonstration at events and salons, this course offers advanced techniques and service improvements studies.
---
Training course sessions are available at Shibuya in Tokyo, the center of Japan's beauty industry. For busy salon industry people, our school is located near the station for easy access.